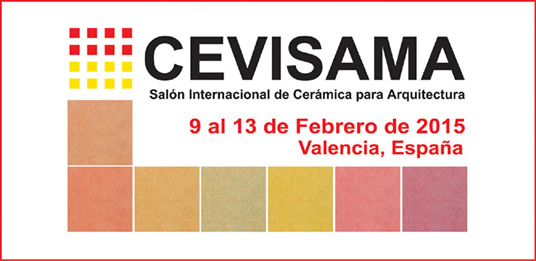 29 / I / 15
Cevisama is an international trade fair which represents over 30 years of experience as a monograph contest of the ceramic sector. A showcase of reference in ceramic tiles, bathroom equipment, natural stone, frits, glazes and ceramic colors, roof tiles, bricks and materials and tools.
With an exhibition area of over 100,000 m2, has the best professional environment to enhance and make the products of exhibitors visible to all stakeholders.
The 2014 edition had 75,173 visitors, including distributors, wholesalers, importers, manufacturers, shops, architects, interior designers and press.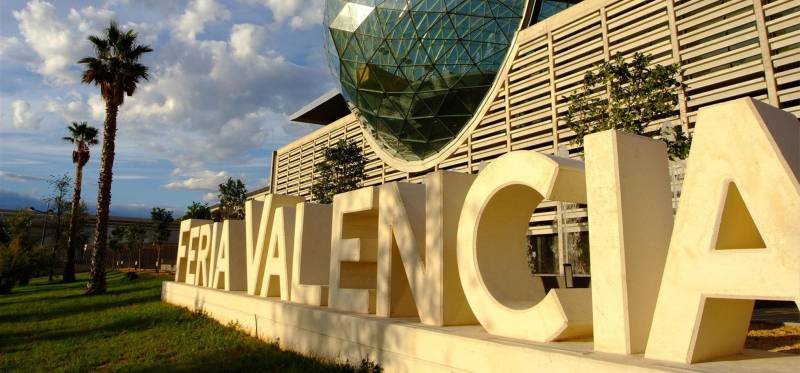 Above: The exhibition takes place at Feria de Valencia in Paterna (Valencian Autonomy) Spain.
Coinciding with Cevisama, it further welcomes the exhibition Habitat (furniture, lighting, kitchen and home textiles) and Maderalia Selection (Materials and solutions for wooden industry and decoration).
Furthermore, takes place a wide range of cultural activities both at the fairgrounds, and the city of Valencia, this shapes "Nos vemos en Valencia" -See you in Valencia- (The Great International cites the interior design, architecture and design).
Professionals from 144 countries have staged the biggest business center for ceramic coatings industry and related sectors.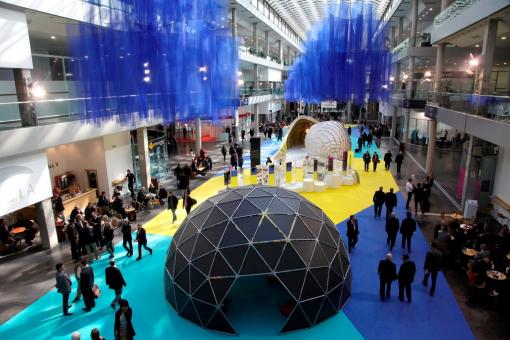 Above: The central aisle of the fair Cevisama, always reflects the latest industry trends.
Notable visitors came from the European Union, Russia and Eastern Europe, North Africa and the South American continent.
More than 300 accredited international media and the emergence of reviews and reports on almost all the major trade magazines, are proof of its international media outreach.
Cevisama is the ideal support for new ideas canal. Participating in the fair Cevisama ensures the updating of innovative products and market trends.
More than cutting-edge ceramic tiles offering, there are the leading sectors in R & D as ceramic frits, glazes and colors, and other related, who are infected with the process of constant innovation products: Roof tiles and bricks, materials and tooling for wall and floor tiling, ceramic machinery, natural stone and bathroom equipment.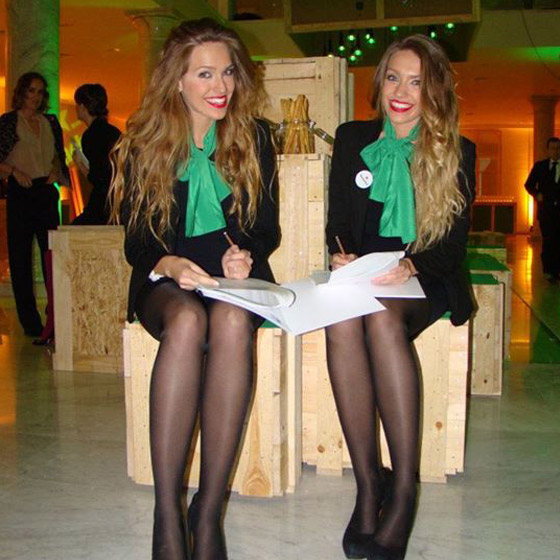 Above: Hostesses in a booth at the fair.
Cevisama breaks records in regard to presentation of new items. In the edition 2014, 275 new products were presented.
Cevisama is the exponent of how ceramic tiles are transformed into household skin. The perfection achieved in digital printing techniques for creating personalized spaces, more faithful effects and quality finishes increasingly appreciated by architects and interior designers.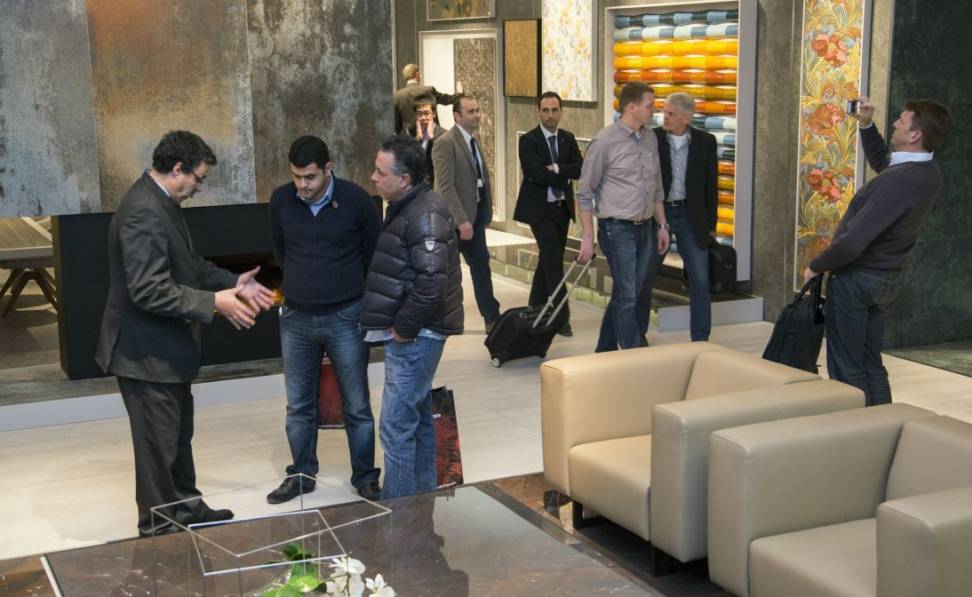 Above: During the fair, Spain's leading industry manufacturers show their latest developments.
The Cevisama fair is an exchange and communication forum for professionals around the world. Add to the traditional business channels -focused in the distribution-, came together project and engineering studies, and architecture oriented design and equipment of large facilities and spaces for communities.
Cevisama Lab is the Cevisama bet for talent. The commercial offer is completed with an exciting program of activities and updating the sector: exhibitions, competitions, awards, conferences and training in collaboration with the Technological Institutes and the University, among other sessions.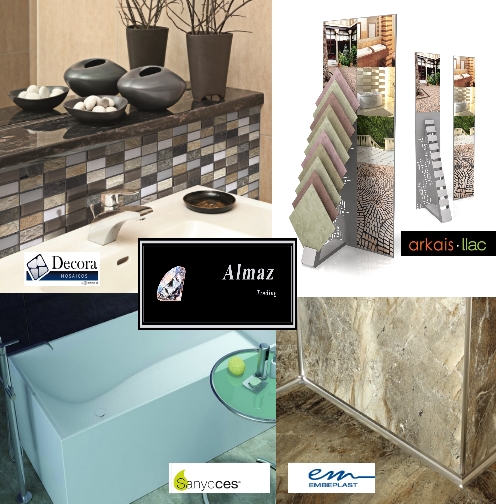 Above: Almaz trading, will be present at the stands of their represented companies.
Along with the Cevisama Lab program Nos vemos en Valencia -See you in Valencia- includes exhibitions, showrooms, conferences, lectures, architectural tours, B2B meetings, product presentations, workshops and events where some of the core values of the Spanish culture, get together: Architecture, films, music, gastronomy and art.
Almaz trading will be present at Cevisama at the stands of our represented firms:

SanycCes in Level N3, Hall P4, stand B-53, are manufacturers of acrylic shower trays, screens and acrylic hot tubs, spas, ceramic and solid Surface sinks and bathtubs.

Arkais-Llac, Level 3, Hall 2, stand B-18, is the exhibitors and craddles (Cula displays) company, who also designs and builts up showrooms and exhibition booths, and projects for Solid Surface customized furnitures, operating rooms, facade panels...

Embeplast in Level 3, Hall 4, stand A2, manufactures in and out profiles to outer and inner corners and edges of ceramic tiles and steps edges, both in PVC and metal as steel or aluminum.

Decora, in Level 3, Hall 2, stand B-79, does mosaic mesh with natural stone, metal or glass. With them we work for Eastern Europe, Balkans, Transcaucasia and Central Asia, but not for Ucraine and the Russian Federation, that are operated by Megatile representatives office.
We hope to see you at the fair!
Almaz trading